My next book for Cascade is called Dancing About Architecture is a Reasonable Thing to Do, and it is about how and why people write about music, which turns out to be the same reason people engage in any meaning-making activity, which is a kind of indomitable faith in the ultimate intelligibility of meaning itself. Although this book sounds kind of impossible to write, it has an aspirational pub date of sometime at the beginning of 2017.
Perspectives on Teaching English at Colleges and Universities in China (TESOL Press, 2015)
Buy it at TESOL Press ($16.76 for TESOL members)
Over the past few decades, China has become one of the world's most important sites for the teaching and learning of English as an additional language. With an estimated 300 million+ learners of English, and nearly 700,000 students studying abroad (often in English) each year, it's important for anyone involved in English language teaching or higher education in general to learn more about the unique educational context of China.
I wrote this book with my friend and colleague Jiang Dong, a Chinese English instructor in Zhejiang province, to write Teaching English at Colleges and Universities in China. We met while working at the same institution in China, and in this book we provide complementary viewpoints on teaching English at the university level there, sharing insights about the sometimes very different experiences of local and foreign teachers of English working at this level.
Touching on the history of English education, student life, testing and assessment, educational policy, and other unique features of English in the Chinese context, this book will be of interest to practicing or aspiring English language teachers who are considering teaching at the university level in China, or for anyone interested in learning more about this context.
Sects, Love, and Rock & Roll (Cascade Books, 2010)
[Buy  the paperback at Wipf & Stock for $18.40]
[Buy the Kindle version at Amazon for $9.99]
"Heng Hartse's book is top-notch rock writing, music snobbery at its self-indulgent, self-effacing best. He listens to music with a theological ear, and he writes about it so well." – Kurt Armstrong, Christian Week
"His coming-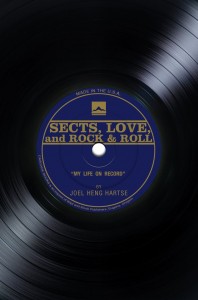 of-age stories are spot-on, and I wish I knew this guy now." – Hearts & Minds Books
"Sects is infused with appealing honesty and humor, and is free from the bitterness that drives some post-evangelical memoirs. – Image Update